Agriculture, Commerce and Industry Collaboration Project
Product development and sales of raw (non-shiozo) mosuk using Miyakojima Mozuk
We have developed "Green Mosuk" as a new product using the raw Miyakojima Mokku that does not salt.
Green Mosuk has opened up the market for Miyakojima Mozuk as a food targeted at consumers who want mozuk that doesn't taste like salads, and consumers who care about their health.
Certification Date: Heisei 20 September 19, Serial Number:3-20-015

【Cooperation】
Small business person:西光エンジニアリング株式会社
Agriculture, Forestry and Fishermen:宮古島漁業協同組合
Support agencies, etc.:静岡県商工会連合会、地域活性化支援事務局

【History】
西光エンジニアリング(株)in the mosk processing and sales of Miyako Island for a long time.宮古島漁協we have a deep connection with our reliable sales channels, sales know-how, and cleaning, sorting and drying technologies for seaweed.宮古島漁協has mosuk aquaculture and sorting know-how.
In this project, we have decided to start cooperation and cooperation by utilizing the management resources of both companies.


The fresh mosuk is greened and frozen by heat sterilization.

【Features】
A vivid green shines by boiling it.
You can expect the effect of visually coolness.
It is thawed and eaten smoothly in salad and noodles.

Expected economic effects
◆Sales of new products (Fy24) 750 million yen
◆Number of new job creations associated with this collaboration: 10
Heisei 24, collaboration body
◆Establishment of local brand "Miyakojima Mozuk": "Miyakojima Green Mozuk"
New Collaboration Business
Development and commercialization of paper tubes, scallop stools, and mosuk drying methods using hot air drying and microwave heating
Certification Date: July 19, Heisei 19, Volume Number:3-19-098
Business Overview (novelty, marketability, etc.)
・Microwave heating is used in combination in the drying method in the paper tube manufacturing process, enabling drying in a short time.
・The drying method used in combination with microwave heating is applied to the drying of scallops and mok, shortening the drying time, yield is good, and hygienic processing was realized. In addition, this device makes work more efficient.
・There are about 85 manufacturers in Japan that require paper tube dryers, and more than 250 in factories.
・The production volume in Japan is next to China, and it becomes 530,000 tons per year about the scallop.
・There is a production of 20,000 tons per year in Okinawa Prefecture, and there are more than 25 companies that have more than 10 processors and are considering drying.
・We are also considering selling paper pipes and scallop dryers overseas.


【Business Promotion System】
【Composition of cooperative body】
Installation design and development
Assembly and manufacturing
♦Technical provision
Logistics developed from the new collaboration plan
Reduction of dryer transportation costs by utilizing reverse logistics

Fujieda City Agriculture, Commerce and Industry Collaboration and 6th Industrialization Network Collaboration Project
Fujieda tea project to do something

Nishimitsu Engineering Co., Ltd.SHIZUOKA SDGs Action!Applying for



With the aim of increasing the production of Fujieda tea, cellulose nanofibers for food derived from Fujieda tea (CNF)We plan to develop new tea products and beverages using, commercialize them in 2019, and launch them in 2020.
Project establishment date: April 2, Reiwa 1
Purpose (task field)
Revitalizing the local communityThe City of Tea "Fujieda"the number of abandoned tea gardens expanding at the sloped tea garden in the nakayama area of Fujieda City.
Cooperation
Cooperation with seven companies, including major beverage manufacturers, tea farmers in Shizuoka Prefecture, and tea machine manufacturers
Cooperative Projects
西光エンジニアリング
(
株
) Based on the Regional Economic Traction Project Plan approved in 2018, THE CNF Concentrator and Green Tea-derived CNF manufacturing equipment have been developed.
CNF for foods derived from green tea is said to be expected to have effects such as the continuation of the fragrance.
However, since the fiber length of green tea becomes shorter when nano-sized, it was necessary to devise such as making rough tea a long fiber length.
In order to promote production facilities and product development in the future, we are working on new product development by utilizing various subsidies, such as 5 million yen, in edible CNF research from the Shizuoka Industrial Promotion Foundation.
Effective use of Fujieda tea
   2Effective use of tea leaves after Bancha
2019On Friday, April 5, 2009, with the aim of becoming the capital of the tea, fujieda tea officials gathered together to establish a project to manage Fujieda tea (hereafter, the Fujieda Tea Project).
With the aim of making products in Fujieda City,
It is published in the hometown specialty support declaration
Vacuum fermented tea
And
Fujieda tea as a raw material
CnF for green tea-derived foods
、
For hydration for the elderly
Troli Fujiedacha
、
We are working on these research and development.
The ultimate goal of the Fujieda Project is to revitalize the local community and revive Fujieda, the capital of tea.
Effective use of lower tea after no.2 tea is a problem.
Flavor Fujieda green tea, which will be commercialized in this project, aims to make effective use of the lower-grade tea of Fujieda tea, and members of the Fujieda Tea Project will gather to commercialize it.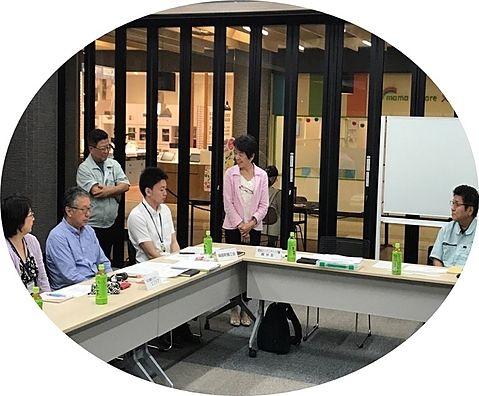 Project meeting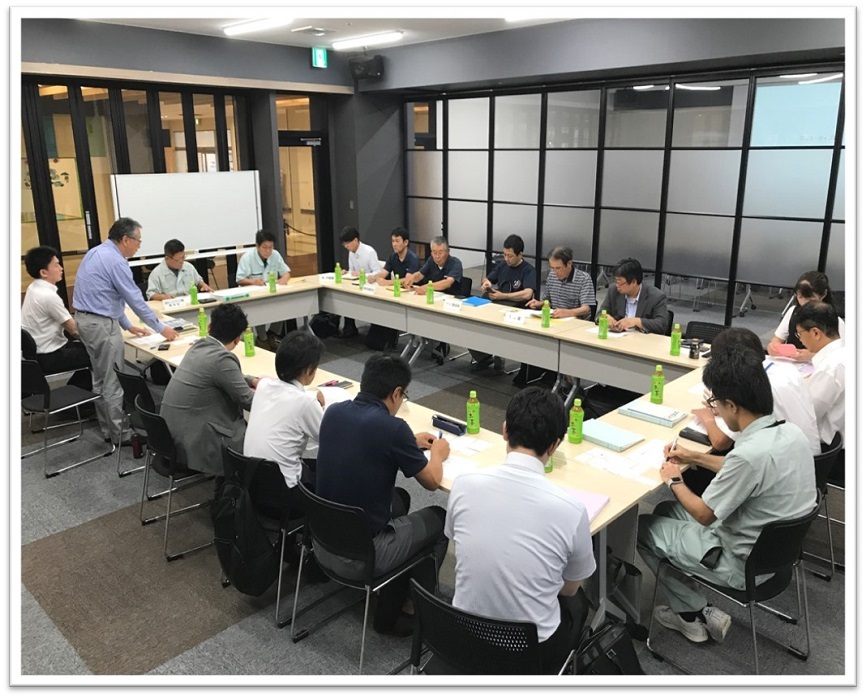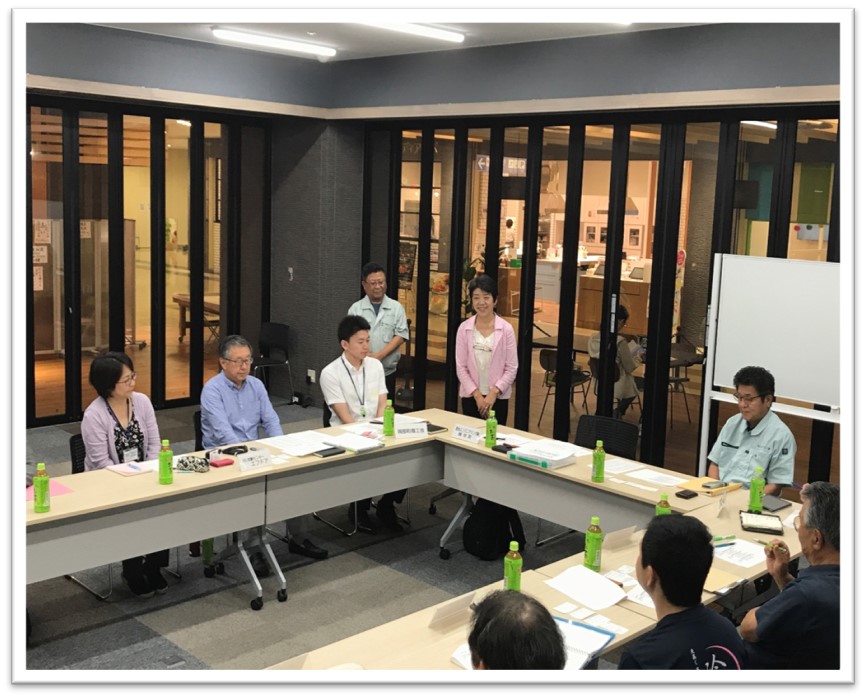 Research and development of Fujieda Green Tea Moon Peach
   Study of flavors mainly composed of moon peaches
 Flavored Fujieda Green Tea, Moon Peach
This is a collaboration product of Fujieda tea and the flavor of medicinal plants native to Miyako Island, and is a powder package that can take all of the ingredients possessed by green tea and medicinal plants.
It is a simple packaging of a flat bag for cost reduction.
In Miyakojima City, a friendly city with Fujieda City, we paid attention to the fact that there are many medicinal plants that grow naturally, such as moon peach (sanin), longevity grass (button bow), lemongrass, etc., and we have developed flavor green tea that blends dried powder with microwave dry powder and Fujieda tea powder. It was hot in Fujieda, and i tasted it with ice cream in Miyako island, but the results were both favorable.
In this project, we utilize the dry powder of medicinal plants native to Miyako Island, and the aroma is strong even in cold tea such as jasmine tea, and the color is pure domestic
Flavored Fujieda Green Tea
and expand its sales channels from Miyako Island, which likes to drink such tea, to countries such as Okinawa Prefecture, Southeast Asia, and Taiwan.
1) Research how to process flavors with good color and aroma.
Compare the dried product after steaming and dried products of raw tea.
It also serves as cleaning and sterilization, to determine the optimal steaming conditions for the fuller bar of steaming water.
2) Research on how to drain after steaming in hot water.
It is necessary to drain in a short time and dry quickly, and consider a method that can be processed in a short time.
This page has been automatically translated. Please note that it may be different from the original contents.